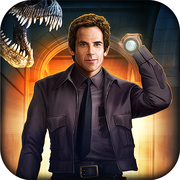 Night at the Museum: Hidden Treasures
, also known as
Night at the Museum: Hidden Key
, is an android and iPhone app created by Pocket Gems, Inc. The game is free to play however you pay real money in order to obtain some items.
Description
Get ready for a new adventure with your favorite characters from the NIGHT AT THE MUSEUM movies! Join some of history's biggest personalities as you search spectacular hidden object scenes, discover clues and team up with lively exhibits to save the magic from falling into the wrong hands and vanishing forever!
Game Features
Explore thought-provoking hidden object scenes and hilarious historical fun. Discover a new museum filled with colorful exhibits featuring Camelot, ancient Egypt, imperial China, and more. Use handy tools like flashlights, magnifying glasses, and photos to help speed up your journey through the museum. Team up with some of history's most memorable characters like Teddy Roosevelt, Attila the Hun, and Joan of Arc.
In-App Purchases
Adventure Pack
Pinch of Scarabs
Big Box of Crowbars
Box of Crowbars
Pouch of Scarabs
Pinch of Cash
Pouch of Cash
Pile of Crowbars
Explorer Pack
Chest of Scarabs
Screenshots