Location
New York, United States
The American Museum of Natural History (AMNH). simply known as Museum of Natural History is a large museum in New York City in America. It is located next to Central Park on the Upper West Side of Manhattan. It is the first museum that Larry decides to work at and where most of his museum friends live.
Description
The museum complex comprises of 27 interconnected buildings housing 45 permanent exhibition halls, in addition to a planetarium and a library. The museum collections contain over 32 million specimens of plants, humans, animals, fossils, minerals, rocks, meteorites, and human cultural artifacts, of which only a small fraction can be displayed at any given time, and occupies 1,600,000 square feet (150,000 m2). The Museum has a full-time scientific staff of 225, sponsors over 120 special field expeditions each year, and averages about five million visits annually.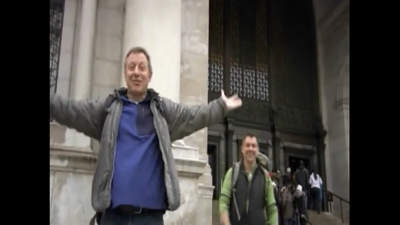 the Kratt brothers visiting the museum episode back in creature time.
Filming
The interior scenes were that are seen in the films were shot at a sound stage in Vancouver, British Columbia, but exterior shots of the museum's façade were done at the actual Museum of Natural History.
Community content is available under
CC-BY-SA
unless otherwise noted.